Biography
Master Alijan Alijanpour Iranian-Canadian Artist born in 1956, in FereydunKenar, Iran.
He has been In the field of Persian Classic Painting "Miniature" since 1969.

Trained by great masters "Mohammad Ali Zavieh" and "Mahmoud Farshchian".

He Accomplished many unique master pieces that were exhibited and held by museums and dominant art galleries such as " Mother " ,"Lonely Taming" , " who knows what we feel" and etc.

In 1993 he was awarded the prestigious Rank 1 Certificate in Art by the Iranian Ministry of Culture, and was awarded the title of "Master in Visual Arts".

He immigrated to Toronto, Canada in 2000 and continued his creation and activities in Persian Miniature.

He has been teaching and training art students and artist painters in recognized universities and institutions in Iran and Canada since 1983.

He founded Irena Art school in Toronto in 2000 and has been leading the institution and teaching as the primary art master.

He created and introduced the unique method of painting in the world by series of paintings named " United Couples" demonstrating human soul elevation displayed by Kissing, Dancing, Flying and Harmony couples.

Master Alijan has demonstrated very unique talents in most recognized painting methods and styles as " Realism" , " surrealism " , Impressionism" and "Abstract" .

Holder of a prestigious Rank 1 Certificate in Art from the Ministry of Culture of Iran, sinceJune 22,
2010 Winner of the First Prize in 2 (two) of the Biennale Exhibitions of Painting in Tehran Contemporary Arts Museum, 1993 and 1995, Tehran, Iran
Painting of the Ontario Legislative Building
Master Alijanpour was elected to paint the image of " the Ontario Legislative Building at Queen's Park, Toronto" which was unveiled on March 28, 2011 and has been exhibited permanently the walls of the Ontario Legislative Building.

Held and participated in more than 70 solo and group exhibitions in Iran, Greece, China, the United States, Canada and Algeria since 1984 including the Canadian Parliament in 2001, Ottawa, Canada
Participated in the Royal Ontario Museum at the Iranian Heritage Day exhibition in, 2011, ,2012 ,2013 and 2014 Toronto, Canada to represent Iranian classic painting " Miniature"
Two-times Jury Member in 1997 and 1999 Painting Biennial Exhibitions, Tehran Museum of Contemporary Art, Iran
Participation in the Persian Harvest Festival (Mehregan) at the Orange County Fair and Expo Center in Costa Mesa, California, October 2005
Participation in the Seyhoun Gallery Group Exhibition, Los Angeles, September 2006
---
Awards
Alijan artwork has had a great impression on those who love authentic art and for those art evaluators who professionally study and evaluate the artworks. His mature spirit of divine love and joyfulness has flowed to his paintings through the colors.
Latest
Alijan won both Merit and Honorable to Mention awards at the Society of Canadian Artists, 54th Open International Juried Exhibition, 5 ~ 28 Aug 2022, in Toronto. His excellency on the world stage is unquestionably acknowledged by the jury of artists for his masterful creation titled 'Freshness,' which captivated them with its intricate and innovative use of creative art.
---
A few Others
Rank 1 Certificate in Art from the Ministry of Culture of Iran, since June 22, 2010
The First Prize in 2 (two) of the Biennale Exhibitions of Painting in Tehran Contemporary Arts Museum, 1993 and 1995, Tehran, Ir
---
Honored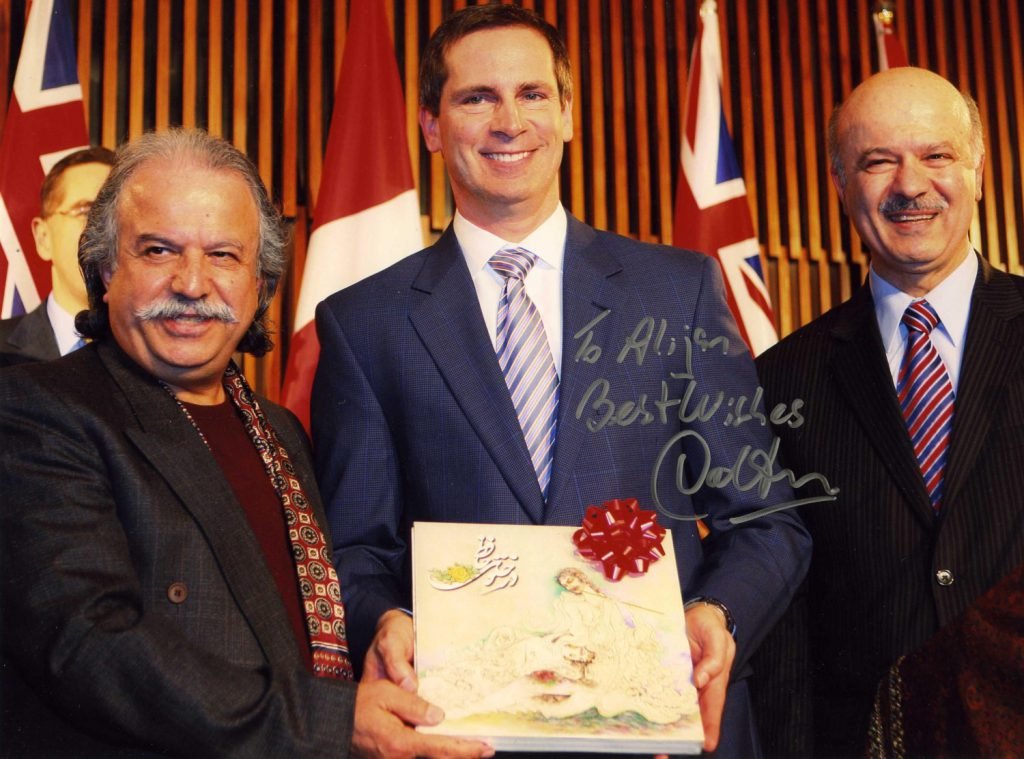 ---
Tens of Artworks
There are tens of Alijanpour's artworks both on display and photographed in his gallery;
For more info, please